Presidents Letter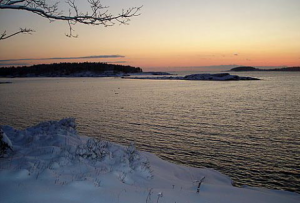 Hello Small Pointers, New England has been having one of the most colorful foliage seasons in recent memory. Small Point was ablaze over Columbus Day and several families were spotted enjoying the warm, beautiful weather as they readied their homes for the long, cold winter ahead.
Summer School, as always, enjoyed a season filled with varied activities, happy campers, busy counselors, and a few new twists, such as the hugely successful regatta sailing program. We sadly bade good-bye to Malcolm during a day-long celebration that involved a grueling Small Point Small Marathon (won by Annie Dear), a very successful Yard Sale (Thank you Elena V. for allowing us the use of your barn for drop-offs), a delectable community-wide pot luck dinner with a celebratory toast to Malcolm, and a dance (thank you, once again, to Leo and friends for their musical talents). The events were well attended and numerous helpers of all ages and sizes contributed to making the day a huge success. It is truly inspiring to be part of an organization that benefits from such a cooperative community spirit. We thank you, one and all!
Each year the SPSS Board sadly bids goodbye to members whose terms have expired while welcoming new representatives of the community. This year we extend our heartfelt thanks to Peg Daly for her thorough attention to buildings and grounds, Leslie Owen (and Annie Dear!) for production of the newsletter, and Kip Weese, who kept our books balanced and our bills paid. SPSS is healthier because of your service. Thank you.