The Small Point Summer School (SPSS) is a seasonal day camp created by and for the summer residents of Small Point, Maine.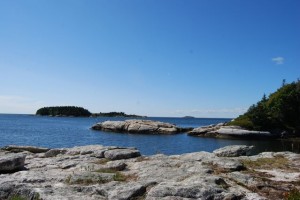 Founded in 1958, the Small Point Summer School offers a safe, fun, socially rewarding, adventurous, and environmentally responsible experience for children ages 3.5 – 14 in the Small Point and surrounding communities.
SPSS believes that learning takes many forms, and that structured play can provide opportunities for children of differing ages and abilities to develop skills, gain confidence, and explore new ideas. Many of our campers go on to become counselors at the camp, passing along the sense of place and spirit of exploration that they received from those who came before them.
At SPSS, we seek to introduce and advance campers' interest and capabilities in specific areas that have traditionally been integral to our community: sailing, tennis, natural history, arts and crafts, and the theatre arts. We also serve as a community resource, preserving and promoting local knowledge, traditions, and lore. We try to instill in our students a sense of cultural and environmental stewardship, and to give them the tools they need to act on those principles. We hope to help children mature into flexible, resilient, inquisitive individuals capable of making positive contributions to their families, their schools, and their communities.
Our current Board of Directors who graciously volunteer their time to support SPSS consists of:
Tom Conroy-President
Elijah Marentette- Treasurer
Liz Vaughn- Secretary
Donal Manekin- Capital Campaign Committee
Rodger Herrigel-Building and Grounds
Anne Pfitzer- Fundraising Committee
Brady Kirchberg-Fundraising Committee
Hadley Rodero- Nominating & Personnel Committee
Nina Woolcott- Programming Committee
MaryGrace Greene-Programming Committee
David Coates- Waterfront Committee
Lizzie Mitchell-Waterfront Committee
Sam Utne- Communications
Robin Moyer-Sports Court Committee and Assistant Treasurer